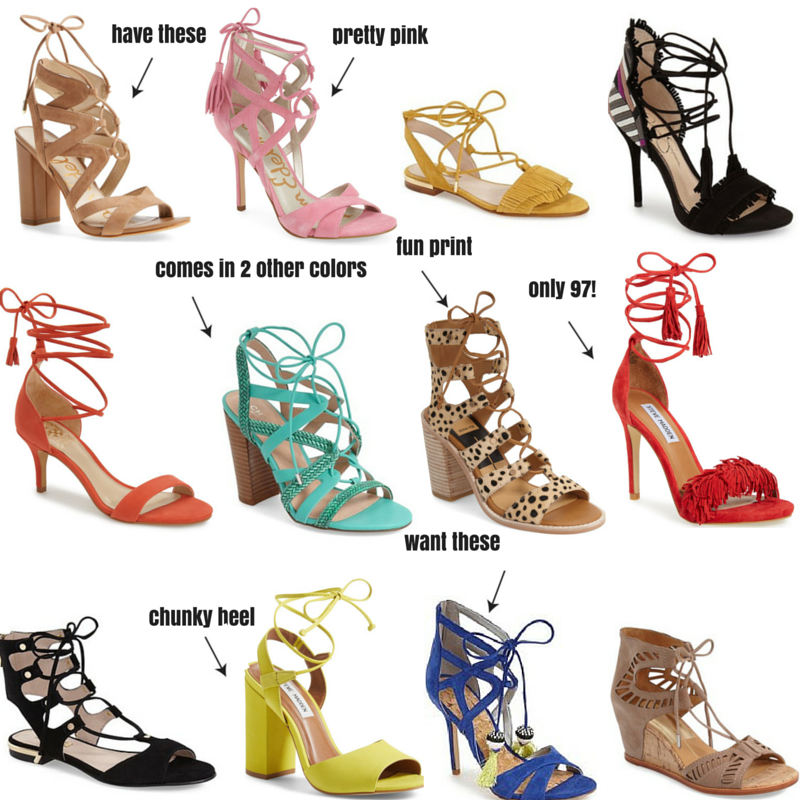 Top row: 'Yardley' lace-up sandal | 'Azela' tassel lace-up sandal | 'Cyan' fringe sandal | 'Basanti' lace-up sandal
Middle row: 'Kathin' lace-up sandal | 'Greensboro' lace-up block heel sandal | 'Lyndon' lace-up genuine calf hair sandal | 'Sassey' fringe sandal {only $97!}
Bottom row: 'Ashlyn' Ghillie sandal | 'Serinna' block heel lace-up sandal | 'Azela' tassel lace-up sandal  | 'Linsey' lace-up wedge sandal
TGIF everyone! Do any of you have anything fun planned for the weekend? Gavin and I are headed to Chicago (follow along on Snapchat: amandaglandorf). So far we have planned to go to the Sears Tower, the "Bean," some shopping (duh!) and do a photo shoot. If you live ther or have visited there before, we would love some recommendations on things to do and places to eat, so just leave some comments below.
I have been loving all the lace-up sandals that have been out everywhere, so far this Spring and I don't think they will be going away any time soon. They are all fab choice and are all under $150. I have these in nude and are definitely worth the price. They go in and out of stock quite a bit, so grab them while you can. There are so many styles that you really can't go wrong with any of them.
Which ones are your favorite?
Thanks for stopping by and have an awesome weekend! x