This post may contain affiliate links, which means if you click and/or make a purchase, I may make a small commission at no cost to you. Any products gifted by a brand will be marked "c/o". Thanks for making For The Love of Glitter possible!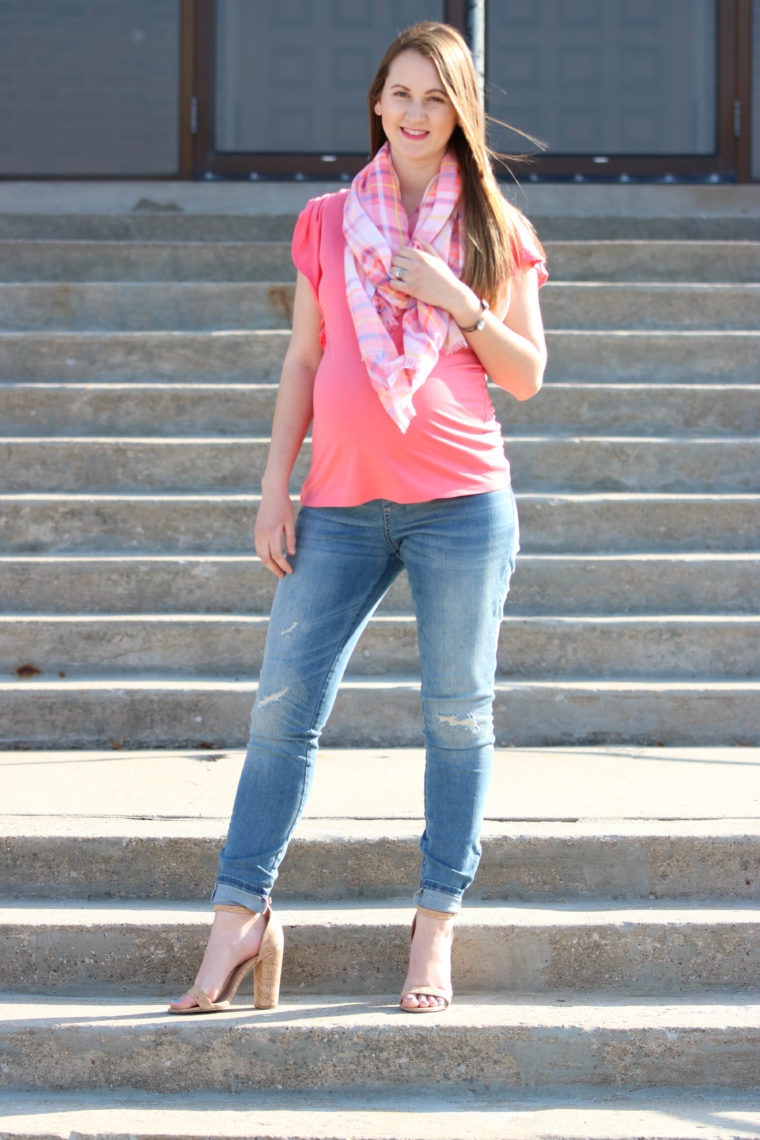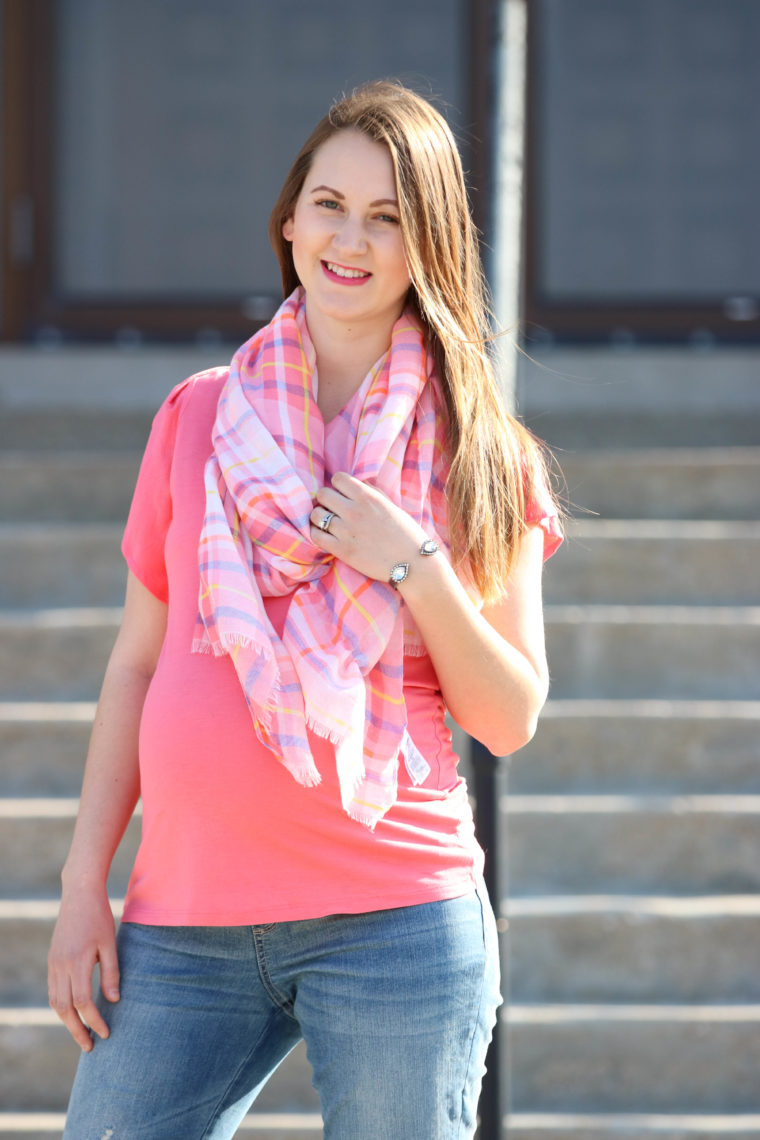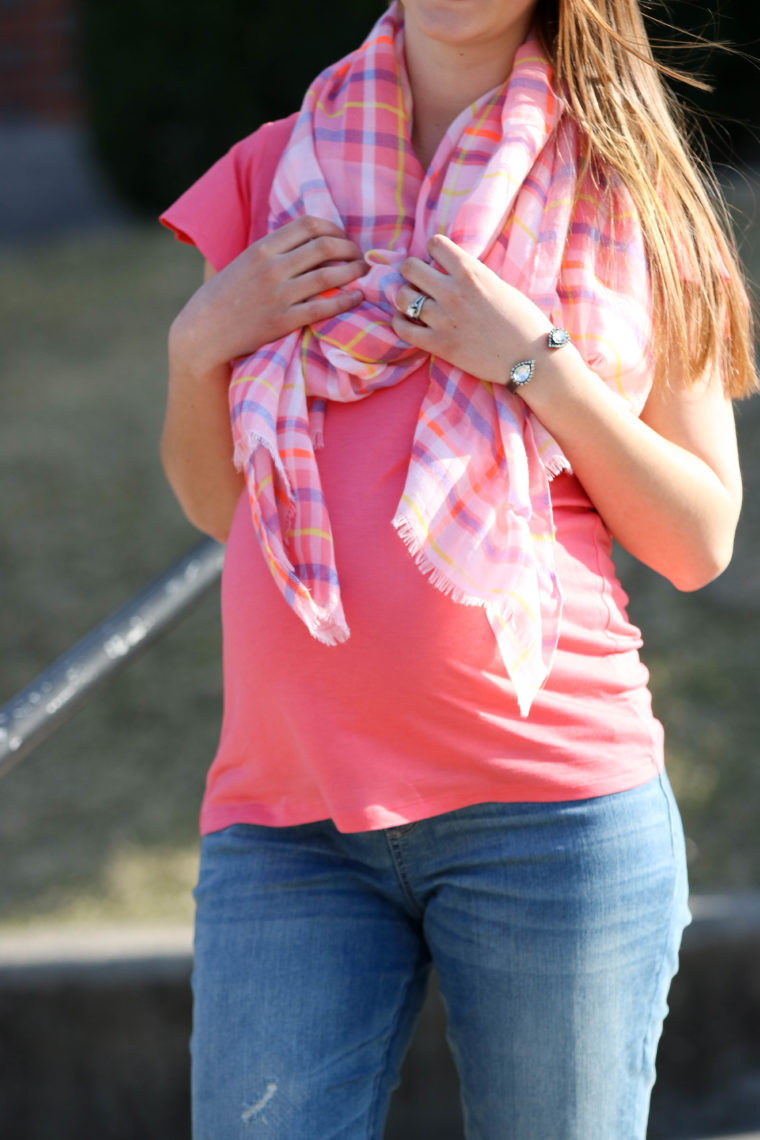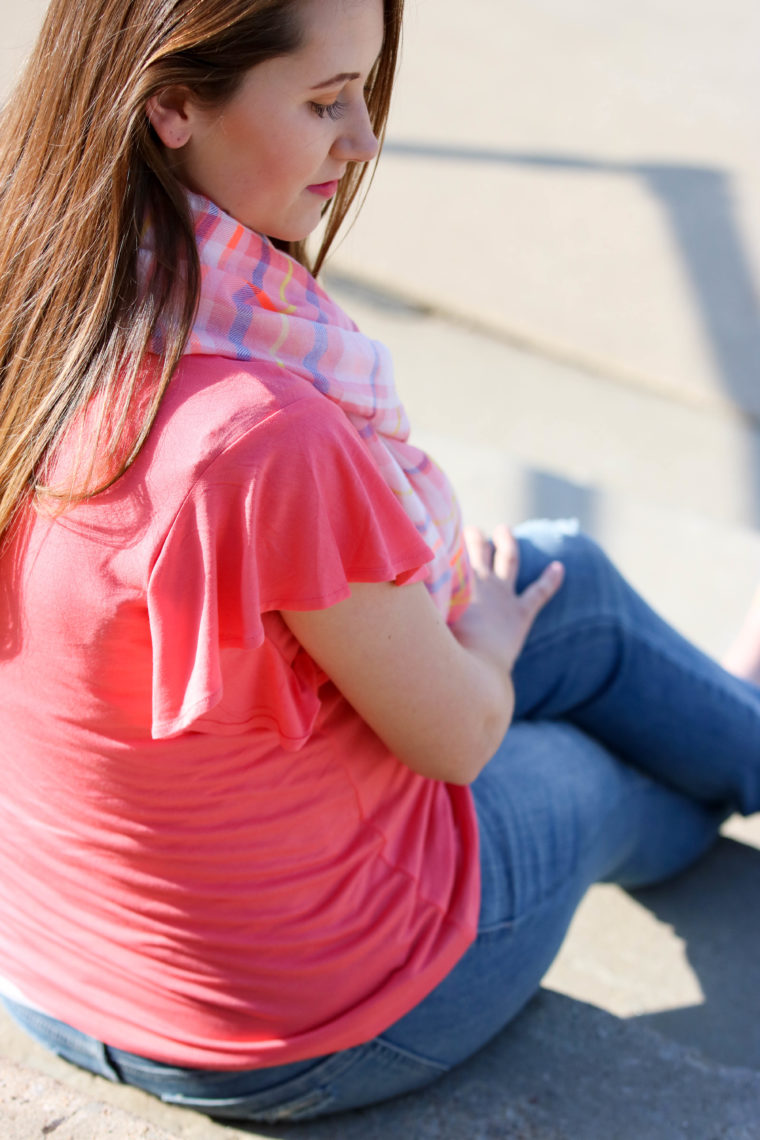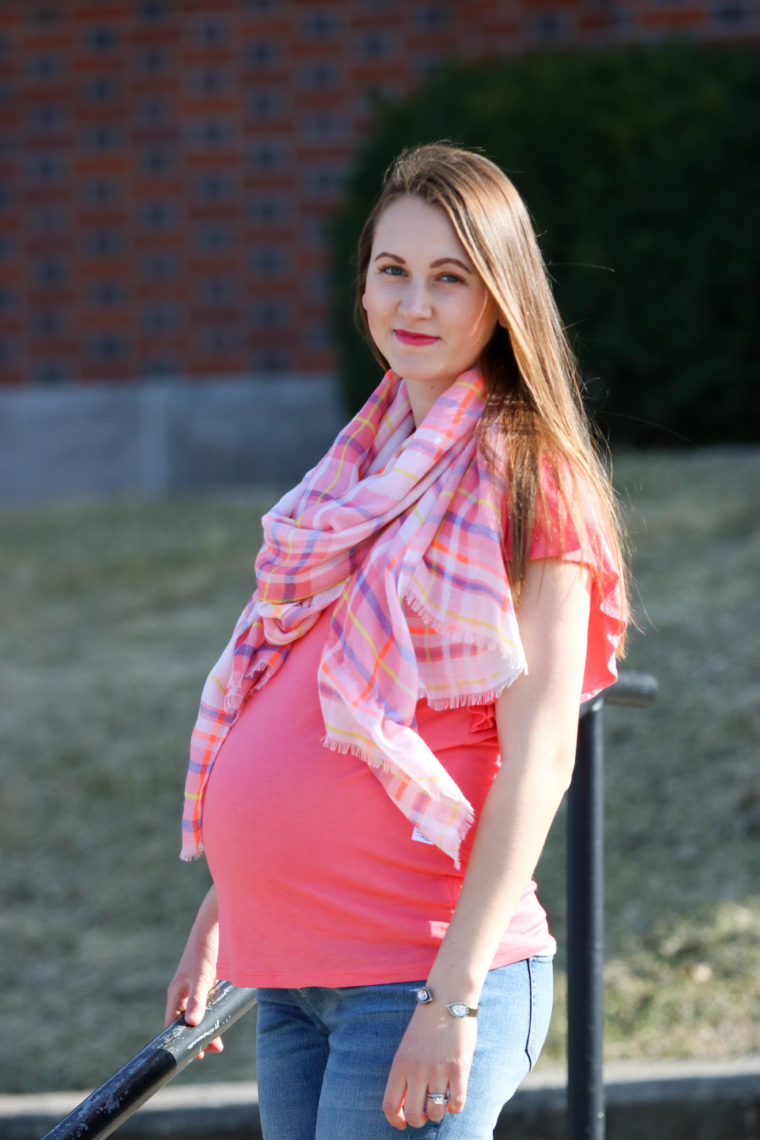 Old Navy top | Old Navy scarf | Target jeans |ShoeDazzle heels c/o | Loren Hope cuff bracelet
Happy first day of Spring everyone! Winter was pretty easy on us this year, but I am so happy that Spring is finally here! I hope you all had a fabulous weekend! I can't believe I finished my last day of work on Saturday. I am so excited and fortunate enough that I will get to be a stay-at-home mom. It's something I have always wanted to do – I know there will be a lot of ups and downs with it, but I know it will definitely be worth it. Below I will be sharing info on my 39 week bumpdate, but before that, let's talk about today's look.
Made another Old Navy stop this weekend and found the perfect ruffle sleeve tee right when I walked in. I have been looking for a ruffled sleeve top like this and was so excited when I found this one. It's seriously the comfiest tee I own, it comes in another color and it's only $15. This printed scarf was the last one on the shelf and complemented this top so well.
For a dressier look, you could pair this top with white jeans and a denim jacket. I would've worn white jeans with this top, but I didn't have any at the moment that fit, and this lady didn't feel like buying any since I am almost done with my pregnancy.
It's bitter-sweet that this will officially be my last bumpdate on the blog. We are so ready for him to be here, but a part of me is going to miss having a sweet bump.I really enjoyed sharing bumpdates with you all along the way, and I really hope you enjoyed them too.
How far along: 39 weeks! I will be 40 weeks on Saturday. I have my OB appointment today so we will have to see how far I am dilated. Last Monday I was only 1cm dilated.
Name: We will be sharing his name as soon as he arrives!
Movement: He moves around so much whenever I am sitting down and eating and when I am laying down in bed.
Cravings: Frosted Shredded wheaties with milk, chocolate, applesauce, pasta, oranges, and carrots.
How I'm Feeling:
My mom and I went on a really long walk yesterday and I had no idea how exhausting that was going to be. I was so out of breath.
Sleeping is getting to be uncomfortable and it's hard for me to switch sides at night
I have to pee what seems like every 30 minutes to an hour and it's even worse at night. I usually get up 2-3 times at night to use the bathroom. Gavin is a light sleeper so he usually hears me get up.
Weight Gain: I have actually gained the majority of weight in this last trimester. I have only gained 26 pounds in this pregnancy which I am pretty happy about.
Physical Changes: 
My belly has really gotten huge! I get so many people asking how far along I am and when I tell them that I am 39 weeks, their jaws drop and they tell me that I am so tiny and that they can't believe I am that far along.
Luckily I haven't had swollen feet, but putting shoes on and taking them off have been a challenge, especially when I am shooting looks for the blog. Lately, my mom and Gavin have had to help me with that, haha.
What I miss: Wearing my normal clothing! I have literally complained about nothing fitting this last trimester and I can't wait to be back to wearing my every-day clothing.
What are we most excited about: His arrival! 🙂
What we are we least excited about: I am so nervous and the labor and delivery. I hope it all goes by quickly!
Nursery:  It is finally complete! I can't wait to share it with you all in a couple weeks!
Thank you so much for following along on this journey, it means so much to us! xx