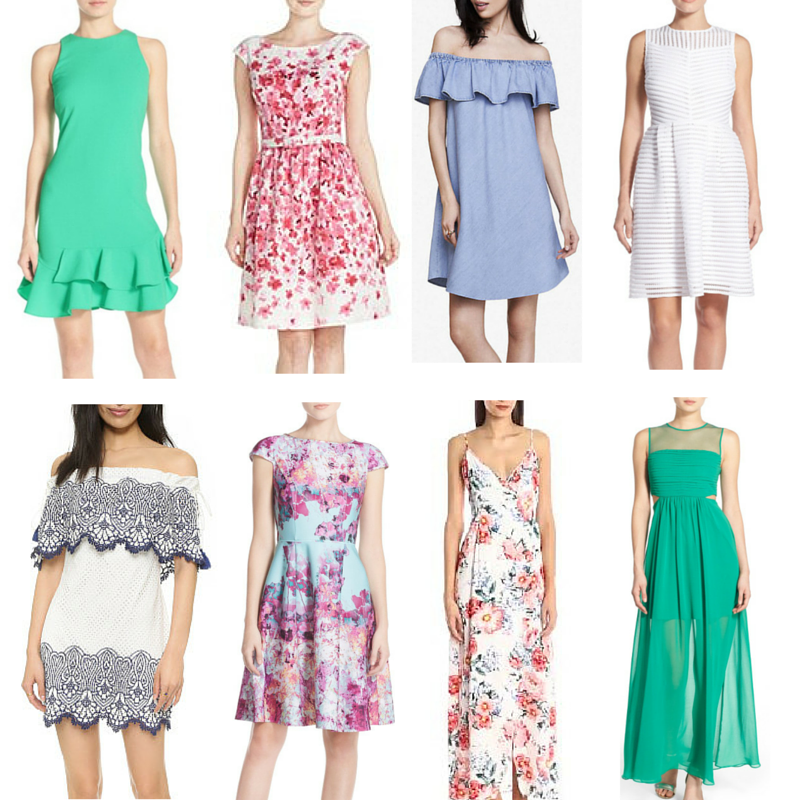 Top Row: tiered ruffle hem dress | belted floral faille fit & flare dress | denim off the shoulder trapeze dress {only $59!} | eyelet stripe fit & flare dress
Bottom Row: saylor esme dress | floral print scuba fit & flare dress | 'little blooms' maxi dress | 'Jena' illusion yoke maxi dress {only $88!}
Can anyone else believe that Easter is just a litter over two weeks away? That means its time to start thinking about what we want to wear for Easter. I have gathered up some pretty dresses that would be perfect to wear on Easter. All of them are under $148 except the first dress on the bottom.
When I think of Easter, flowers come to mind. I really like this floral maxi dress with the deep v-neck. I also like the thought of wearing white on Easter – it's just so timeless and feminine and you can pair any color with it. My favorite dress of them all is this emerald green dress. I love the color of it and the ruffled hem.
What dress do you like best? Do you know what you are wearing for Easter yet?
Thanks for stopping by and have a great weekend! xx